It ALL Starts With Traffic—the Kind That Makes You Money … Not Late for Dinner!
Reading Time:
12
minutes
So you think you know revenue optimization, do you? If you've been following Build Grow Scale for any length of time, you'd better know the basics at least! That said, it's not only about implementing the tactics, optimizations, or SOPs (standard operating procedures) we teach—you also need to examine your traffic sources.
Even if a store has every revenue optimization aspect implemented and functioning … if your traffic is crap, your sales will also, in fact, be crap. So today we're going to look at how traffic sources, broken down specifically, directly affect your store's sales and conversion rates.
Traffic Sources
Let's start with definitions for the main types of traffic we'll be discussing:
Email marketing: This is the act of sending a commercial message, typically to a group of people, using email. In its broadest sense, every email sent to a potential or current customer could be considered email marketing. But more specifically, it involves using email to send advertisements, request business, facilitate sales recovery, and solicit sales or donations.
Instagram marketing: For this kind of marketing, brands use Instagram to connect with their target audiences and market their offerings. Recently, it's gained popularity as an exciting way for brands to show off their cultures, recruit new employees, engage with customers, and present products in a new light.
SMS marketing: This is the practice of sending promotional campaigns or transactional messages for marketing purposes via text messages. These messages are mostly meant to communicate time-sensitive offers, updates, and alerts to people who have consented to receive these messages from your business.
An ecommerce store isn't guaranteed visitors without any effort on the company's part. But this is where new startups often fail both to get much traction and to upscale their business initially. Fortunately, the internet is just the place to get things rolling for those of us who don't have the time or money.
Email Marketing Traffic
Let's kick this off with the most underutilized traffic source—one that the majority of ecommerce stores fail to dial in. Email marketing should account for no less than 20% of your monthly revenue! And we have consistently had Amplified Partner stores convert over 30% for email blasts for months on end!
First, I'll share some templates, triggers, and sequences for email flows that we use daily. Then I'll break down the exact effect email marketing has on purchases.
There are types of email other than marketing-based email that contribute to sales. Let's start with abandoned cart emails, because not having a strategic abandoned cart flow set up on your store is the equivalent of lighting hundred-dollar bills on fire!
Abandonment email
Abandonment is an ecommerce term used to describe the action of a visitor on a web page who leaves that page before completing a desired action. For example, shopping cart abandonment refers to visitors who add items to an online shopping cart but exit without completing the purchase.
Here are some examples of high-performing abandoned cart emails.
The screenshots above show a three-step abandoned cart email sequence. Now here's our proven method (which we have tested to the ends of the earth and back!) as to when it's most effective to send out each of the three emails shown above.
Abandoned cart email #1: This email is sent out one hour after someone adds an item to their cart, proceeds to checkout, but does not purchase.
Abandoned cart email #2: This email is sent out 12 hours after the initial email is sent—not 12 hours after abandonment has occurred.
Abandoned cart email #3: The third and final abandoned cart email in this sequence is sent out 24 hours after the second email has been delivered. This larger gap is timed so that the shopper doesn't feel bombarded with endless emails that will cause them to unsubscribe. No bueno!
Those are the three emails as well as the initial triggers and sequences deployed that Build Grow Scale uses with all of its Amplified Partners. We also strictly use Klaviyo for all of our Amp partner stores for email marketing and cart abandonment.
Using Klaviyo as our premier email client allows us to keep up on market trends with copywriting as well as in-app functionality. Klaviyo also offers an easy way to A/B test email against each other.
Marketing email
Marketing email is one segment of internet marketing that encompasses online marketing via websites, social media, blogs, and more. It's essentially direct mail done electronically instead of through the postal service.
This is where each brand or niche will have a different approach to and sequence for how and when to hit users with marketing- or promotion-based email. This email should not only stay on brand for your store, but also include amazing and enticing images paired with amazing copy and subject lines.
The more engaged a reader is in something, the more apt they'll be to give up that credit card number and buy, buy, buy! Here are a few examples of amazing marketing emails.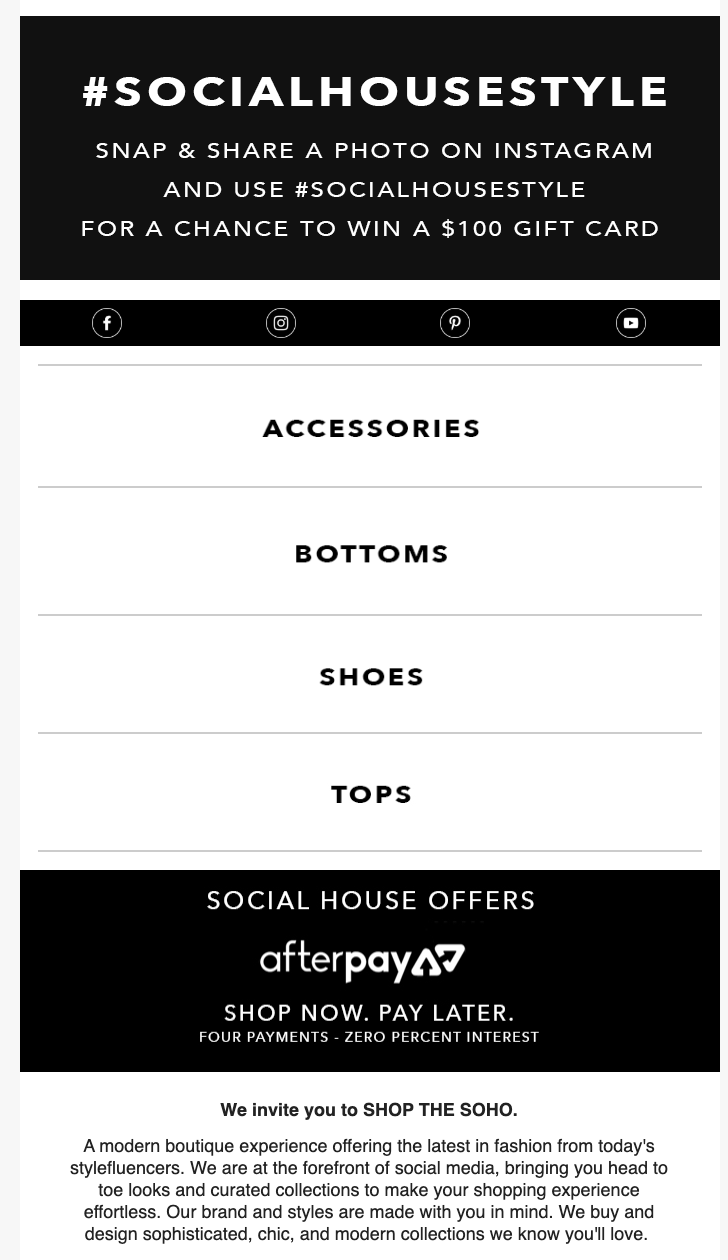 The email examples above are very niche and brand-based marketing emails and would not work for other stores if directly copied. That said, I wanted to draw attention to the clean, sharp, and enticing qualities that can keep buyers engaged and connected. If an email uses some random robotic-looking font and is thrown together like a salad, the unsubscribe rate will inevitably be high.
The goal is not to make money on the "front end." If you can break even acquiring a customer you're winning! The profit 99% of the time comes from the back end of your store–that is, from repeat customers, typically brought back to the store via emails. Without having a detailed and structured abandoned cart email sequence set up, it will be very hard to profit on the front end of your store alone.
Instagram Marketing Traffic
All right, how about we dissect something more relatable and fun? Sounds good to me! With the birth of the "influencer era," we all find ourselves browsing Instagram more and more on a daily basis. It is clearly the new age social media outlet. And it is not slowing down!
The social network giant recently announced that they had grown to 500 million daily users. Each of these 500 million daily users spends an average of 53 minutes per day browsing Instagram!
Want some productivity hacks to make your Instagram social media marketing more efficient? Here are some fundamentals:
Batch rather than execute tasks sporadically: Batching is doing as much of a task as you can in one sitting. This approach improves your productivity by eliminating transition time and keeping you focused on the task at hand.
Create great content for your followers: Ensure that your content is high quality, because it's the currency for getting engagement with your target audience on Instagram.
Schedule a month's worth of content: Why waste time logging into your Instagram account every few hours? You can preload your content, in advance, by using a media marketing tool like Later. It will ensure that you remember to fill your Instagram profile with high-quality and relevant updates at regular periods to keep your target audience hooked.
Allocate time to engage with followers: Posting appealing content isn't enough. It's a social platform, and user-generated content is important. So you need to respond to comments posted by your Instagram followers on your social feeds.
But don't fall into the trap of keeping tabs on your Instagram account every few minutes or waiting for new notifications to pop up. Your business won't have tangible results to show for too many random check-ins. Instead, I recommend that you build a system to respond to your audience's user-generated content and comments every day but within a strict time limit.
On the other hand, if your ecommerce store receives a huge volume of sales…then consider integrating customer service with your social media marketing to please your target audience. And designate a couple of dedicated staff members for handling the support requests on the social channel.
Here are a few Instagram posts that have performed well and been very lucrative for clients of ours.
You don't have to have a huge budget to generate sales with Instagram. And its audience likes to shop. So, if you're an ecommerce website owner, I encourage you to implement the above four tactics right away. Don't forget to track your performance. In about 30 days, you should have data on the sales that you've generated.
Well, there you have it. Those are the fundamentals of getting sales or relatively cheap traffic from Instagram to your site without too much hassle. Having said that, though, this will, without question, directly affect the conversion rate of your store.
That's because, for one, users on Instagram are not typically "buyers." They are more or less browsing around and if they see something that catches their eye, they will "swipe up." And this is where you strictly worry about customer acquisition.
It's cheap traffic, and although it most likely will not yield a big increase in sales, it does create engagement with your site and brand as well as helps you acquire email addresses and, if you are smart, their mobile number. This is where we go next, to the effects and the power of SMS marketing and cart abandonment!
SMS (Text) Messaging Traffic
SMS marketing is far from a groundbreaking or new concept. But although it's been a niche channel for some time, we saw more brands capitalizing on this channel last year than ever before.
In fact, SMS was in play heavily over the past year:
While this was the case in one season, it's indicative of trends we've been seeing year-round. SMS is experiencing a rebirth, and marketers are seeing the value that this channel has to offer. And today, we're going to explore just what that value is and how to get it for your own ecommerce store.
What is SMS marketing?
Brands use SMS (short message service) marketing, also known as text message marketing, to connect with their customers.
SMS differs from email in that the messages are very short, limited to 160 characters, and have more immediate delivery. The message appears on your customer's mobile phone just seconds after it's sent, often giving your customer a push notification that it's arrived.
The top 3 benefits of SMS marketing
There are a few aspects of SMS marketing that make it stand out as a unique channel and give brands who use it correctly a competitive edge.
1. SMS is fast
SMS campaigns are received instantly, and most importantly, they're read almost immediately as well. It's no surprise that 90% of SMS are read in the first three minutes after receipt. This makes SMS marketing campaigns great for hyper-time-sensitive offers.
2. SMS earns higher open rates than email
A customer has to go to an inbox for email messages, but an SMS sends an instant push notification to a customer's phone. If customers don't have push set up for their email inboxes, your email campaign will have to wait. The SMS notification stays in place until the message is read. This means that a customer is more likely to at least open your SMS.
3. SMS gets a higher engagement rate
SMS marketing campaigns are eye-catchers: 70% of customers say that SMS is an attention-grabber. SMS is typically read even before it's opened, when the notification appears on the screen. Not only is SMS opened more frequently, it also earns more clicks on average over email.
The 4 SMS Best Practices
While SMS isn't a new channel, marketers are only now beginning to refine it. There's a bit more of a learning curve than for best practices already carved out for email marketing, because there isn't a large margin for error with SMS. Given the proximity of SMS for customers, it's important to get it right the first time around. Luckily for you, we've got some best practices to keep your SMS marketing campaigns relevant.
1. Get permission (and keep it)
Just as with email marketing, it's important to get explicit permission from your customer for SMS marketing. This is simple enough, as you can add the option of including a phone number with your newsletter subscription field.
The real challenge, however, will be in keeping the permission you've tentatively earned. First, start off with full disclosure: tell your customer what kind of text messages they should expect to receive from you.
Second, don't abuse the permission granted to you! SMS is intimate, immediate, and overt about getting your customer's attention. Use your SMS marketing campaigns for time-sensitive and critical information. Overusing this channel is the fastest way to kill it for your customers.
On that note, include a way for customers to opt out with every message. Just like email, you need to make sure you give customers an unsubscribe link or a number they can text STOP to. Sending messages to people who don't want them does nothing for you or your brand.
2. Use an SMS marketing tool
SMS marketing might get you excited, but before you whip out your phone and start sending manual messages to your customers, know that you should really be using SMS marketing software such as Carts Guru or Postscript.
A great SMS marketing tool can help you really nail your strategy in several ways:
You can automate your SMS marketing messages and send several at once. Certain SMS marketing tools will allow you to add SMS directly to your email automation workflows, saving you time. SMS campaigns can be triggered the same way emails are, with the same level of segmentation that allows you to target your campaigns.
An SMS marketing tool provides you with important metrics and reporting so you can see exactly how impactful your campaigns are. With that data, you can adjust your campaigns and try different tactics to get the highest ROI possible.
3. Keep it short, sweet, and to the point
Not only should you keep your SMS campaigns few and far between, but limits on characters and your customers' attention spans means you need to get to the point—quickly.
If you have an offer, lead with that. If you have important information about their order, include it in the message. Always include a link so they can get more detailed information about the offer or update you've sent.
4. Personalize your SMS marketing campaigns
While the ultimate goal is to make sure your SMS campaigns are relevant, it's even better when they're personalized.
I mentioned earlier that a great SMS marketing tool will allow you to use segmentation for your best SMS campaigns. If you can target them the way you do your emails, you'll already be one step ahead of your competition.
SMS is a more intimate channel, so maintain that closeness with your customer by using their first name or personalizing your messages in some other way, such as by sending offers that are relevant based on location or previous purchases. This helps build and maintain the relationship you have with your customers.
This also means you have to think about when your customer will receive an SMS. Remember, many people have their text message notifications enabled on their phones, so sending a text message at 3 a.m. is going to result in a very grumpy customer.
SMS cart abandonment
Cart abandonment is the bane of any ecommerce seller. It's easy to see why—we've found that with almost 7 of every 10 carts abandoned for any number of reasons. Normally, a cart abandonment email is hailed as the best response to this phenomenon. But it's made even better when you combine it with an SMS.
Understand your channels' strengths and weaknesses: SMS is well adapted for immediacy, while email is for information. Send an SMS campaign to capture your customers' attention, and add the photos of the abandoned products in the email follow-up to remind them of what they're missing.
This combination can be super effective, but limit your SMS to one per workflow for each abandoned cart. It's great for that initial message, but you don't want to overdo it.
Key takeaways for SMS
SMS marketing can add immense value to your ecommerce strategy when done correctly. Here are the big takeaways for using SMS marketing for ecommerce:
Get permission from your customers to use SMS, and keep that trust by using SMS only when absolutely necessary. Sending SMS outside of the time frames or topics you stated when acquiring the number will lower the trust level.
Use an SMS marketing tool to automate your campaigns and keep your messages relevant.
Think about the value you add to your customer with your SMS campaigns, and get to the point quickly.
Personalize your SMS marketing campaigns to build and maintain a relationship with your customers.
Use one SMS per workflow for things like Welcome, Birthday, and cart abandonment workflows.
Use SMS for time sensitive offers and the most special deals you're proposing.
As long as you follow best practices and use SMS when it's going to make the biggest impact, you can drastically improve your ROI. With these takeaways, you'll be able to make SMS marketing work for you and your ecommerce store.
Wrap-Up
Generating traffic is the very first step toward making money. But sending cold or generic traffic to your website is not the answer—it will convert horribly. That's why you should implement a strategic approach and try a few of the primary ways of developing traffic sources that we talked about today.
In Part 2 of this article, we'll cover other traffic sources, like Google and Facebook … so stay tuned!
Resources
Daly, F. (2018). SMS vs. email and apps: Customer engagement infograph
https://www.voicesage.com/blog/sms-compared-to-email-infograph/
Dobrilova, T. (2019). 35 must-know SMS marketing statistics in 2020. https://techjury.net/stats-about/sms-marketing-statistics/#gref
Mohsin, M. (2020). 10 Instagram stats every marketer should know in 2020.
https://www.oberlo.com/blog/instagram-stats-every-marketer-should-know
Textlocal. (2017). The state of SMS 2017.
http://wvw.textlocal.com/the-state-of-sms-2017
Tode, C. (n.d.). SMS has eight times the response rate of email: Study.
https://www.retaildive.com/ex/mobilecommercedaily/sms-has-eight-times-the-response-rate-of-email-study